Women Engineering Profiles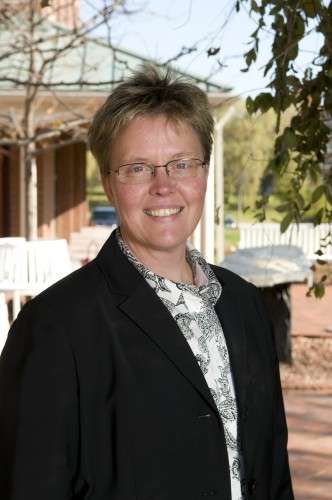 Beth Sturtevant
President, CCB, Inc.
I had a pretty successful high school career and always loved being outside. At my high school, engineering and math were not really promoted as real career options, so I didn't know a lot about all of the options that were available to me at that time. I came from a family of teachers; I soon realized that I wasn't going to follow in my family's footsteps into the field of teaching. I found myself searching for a clear direction to pursue. If not teaching, what would it be? I pursued a variety of things for a couple of years following graduation, both inside and outside Maine.  When I came back to Maine, I had a friend who was Forestry major at UMaine and he was instrumental in my getting a job as part of a field survey team doing Spruce Bud Worm research in and around Baxter State Park.  The research program was based out of the University of Maine School of Forestry and the USGS.  It was there that I found out about the world of surveying, mapping and cartography. I thought, "WOW! This is really cool!" I finally found something that I enjoyed and I was working outside.  After the field season ended in the fall, I came back to the campus to work.  While there, I learned about the construction technology program being offered at UMaine.   I thought that surveying was the direction I wanted to go in and I was anxious to get working in the field, so I decided to enroll.  During my time in the program I found that I really enjoyed the field of construction and construction management and from there, things just took off!
I had an opportunity to get a job with HE Sargent, Inc. right after graduation. I took it and never looked back. I worked for them as a field engineer and time keeper and did layout and field office work. During this time, I met a project manager from another company that was a sister-company to HE Sargent.  Both companies were working on the same project.  This project manager served as an important mentor to me. He was a Civil Engineering graduate of UM and he kind of took me under his wing, gave me support and guidance, challenging and teaching me more things than I could have ever learned in school. I went to work for that company (Consolidated Constructors and Builders) and worked closely with him for four years until he retired.  That was 25 years ago!   I will never forget him telling me, "Yes, of course you can do this!"  His encouragement was hugely important to me!
Today, I am the president and principal owner of CCB, Inc., a multimillion dollar, woman-owned construction firm serving New England and beyond with over 65 years of experience. And I am telling all of you that "Yes, YOU can do this too!"
---
Marilyn Sinnett
Engineer – Woodard and Curran
My first interest in engineering hit me when I was at Orono Middle School and my science teacher, Mr. Dow, tasked us with creating a contraption which would sink, then float, then sink again when placed in an aquarium. That afternoon I went home and got out as many objects of varying sizes and densities as I thought my parents wouldn't miss, and set them all out around the completely full kitchen sink – my aquarium. I tested countless combinations of components in the sink, and I barely left the kitchen for two days. After what seemed like thousands of failed attempts, I finally struck gold. My submarine sank, hovered at the bottom momentarily, slowly rose to the surface, and after breaking the surface plane immediately descended again. It did this several more times, but by the second descent of my submarine I was hooked on engineering for life.
Bachelor of Science in Mechanical Engineering
Magna cum laude with highest honors
May, 2006
---
Amber Simmons
Engineer
At my middle school all 8th grade students were required to take a technical education course. We got to use Auto CAD and make bookshelves and look at real life engineering problems and come up with ways to solve them. I remember it was a hard class, especially to a 13 year old, but it was my favorite one to go to every day. It wasn't until high school that my advisor suggested majoring in engineering. I took a few more classes in high school and enjoyed them very much and knew I wanted to make it my career.
What advice do you have for young women considering engineering?
I have two words of advice. Don't be afraid to ask questions. Engineering is all about communication, teamwork, and lifelong learning. My other advice would be to keep your options open. The more open you are, the more opportunities you will have. Probably one of the best things I have done while studying at the University of Maine was declaring my minor. Just taking a few extra courses has greatly increased my job opportunities with companies I would have never considered working for without it. I have found that a lot of employers like to meet well-rounded students that have a lot to offer.
---
Heather M. Clark
Design Engineer
Teamwork is an vital part of engineering. "The most interesting and challenging aspect of my job is working with various people to implement a new methodology." Ms. Clark is currently a design engineer at Fairchild Semiconductor in South Portland. The semiconductors Fairchild produces are used in the telecommunications, consumer, industrial, personal computer, digital video and automotive markets. Part of Clark's mission is improving the development process.
She believes that being on of the few women in electrical engineering is a great motivator. "I want to be a role model for the young women looking at careers in engineering. There are not enough role models out there for girls to choose a career in electrical engineering." Clark received a B.S. in Electrical Engineering in 1997. She is originally from Sherman Mills, Maine.
---
Janis Piper, P.E.
Highway Designer
"It is a great feeling to drive down a road or enter a structure and know that you had a part in creating it," says Ms. Piper, a highway designer for the Maine Department of Transportation in Bangor. She likes to remind people that civil engineering effects everything that makes your day happen: roads, bridges and rails; water supply and sewage disposal; and keeping the environment clean. Engineering is everywhere!
An important part of engineering is team work—every project she works on is done as a team. "Making sound judgments and having the strength to stand behind [them helps women succeed in any career]." Piper received a B.S. in Civil Engineering in 1991 and a M.S. in Civil Engineering in 1995. She is from Newburgh, Maine.
---
Christine Born Johnson
Marketing Specialist
In the consumer marketing department at Bell Atlantic in Boston, Ms. Johnson helps to bridge the gap between the technical world of engineering and the company's consumers. Her background in engineering is an important part of her career. Every day brings something different: training new employees, attending meetings with engineers, solving problems with customers, traveling or telecommuting from home.
"My major motivation…was a desire to learn new things," said Johnson. Computers are critical in her career, and she has had to keep on top of new technology. "Learning does not end with the completion of formal education."
At Bell Atlantic, Johnson feels that she learns something new everyday. "That is an empowering feeling. I get to work with technology, but I also get to translate that technology into solutions." She earned a B.S. Civil Engineering in 1982 and M.B.A. from Worcester Polytech in 1989. She is originally from Westbrook, Maine.
---
Kendra Crocker
Process Engineer
"Seeing all the automation we have, and all that it can do, is fascinating and fun to watch." Crocker works in National Semiconductor's state-of-the-art facility in South Portland.
The presentation skills and leadership capabilities Crocker developed while at MAINE are critical in her job as a process engineer. She oversees part of the manufacturing process and is responsible for keeping it running smoothly. She works with operators and technicians on a daily basis as the first line of defense for fixing problems. Organizational skills and an understanding of computers are also important. "Computers are everywhere here, they are used for normal applications like data analysis and email, but they also store all of the data that we generate."
Crocker graduated from UMaine with a B.S. in Chemical Engineering in 1998. She grew up in Lee, Maine.
---
Lisa Downs
Environmental Scientist
"The most important thing I learned at UMaine was problem solving skills," said Downs, a research assistant at the Water Research Institute at the University of Maine. She uses her environmental engineering background in her work investigating contaminants such as dioxin and mercury in Maine's fish population. Her responsibilities include preparing the samples, analyzing them with complex equipment, analyzing and interpreting the data she records and report preparation.
At the WRI, there are equal numbers of men and women and all make important contributions to the research projects the Institute is working on. "Women have important contributions to make in all fields, and engineering is one of the few areas that is still male dominated." Downs received her B.S. and M.S. in civil engineering from the University of Maine in 1993 and 1996, respectively. She grew up in Maine and now lives in Orono.
---
Cassie Magoon
Construction Manager
Cassie is forging ground as a female in a construction field. Of her career choice, she says "It challenges me, and forces me to look at things in a different way. I truly feel that it makes me do my best." Since real world experience is very important in construction, she had several co-op jobs. They helped her land a great job as a Field Engineer at J.A. Jones in Charlotte, North Carolina. "I'm really excited about all of the challenges and opportunities that [my career will] bring me in the future.
She earned a B.S. in Construction Management Technology with a minor in business in May 1999. Cassie is originally from Harmony, Maine.
---
Jessica Reynolds
Manufacturing Engineer
"Go Big or Stay Home" is Jessica's motto for success and she will certainly be doing that as a manufacturing engineer. Shortly after graduation, she began designing airplane engines for Pratt & Whitney in Hartford, Connecticut. She's always asking "How does that work?…Why does they work?…If I change this, what will happen?" These questions are a routine part of engineering and essential for success.
"My most important professional experiences so far have come from working on co-operative education jobs." Jessica strongly believes that having co-op experiences on her resume was the key to getting a great job. Originally from Winslow, Maine, she earned a B.S. in Mechanical Engineering in May 1999.