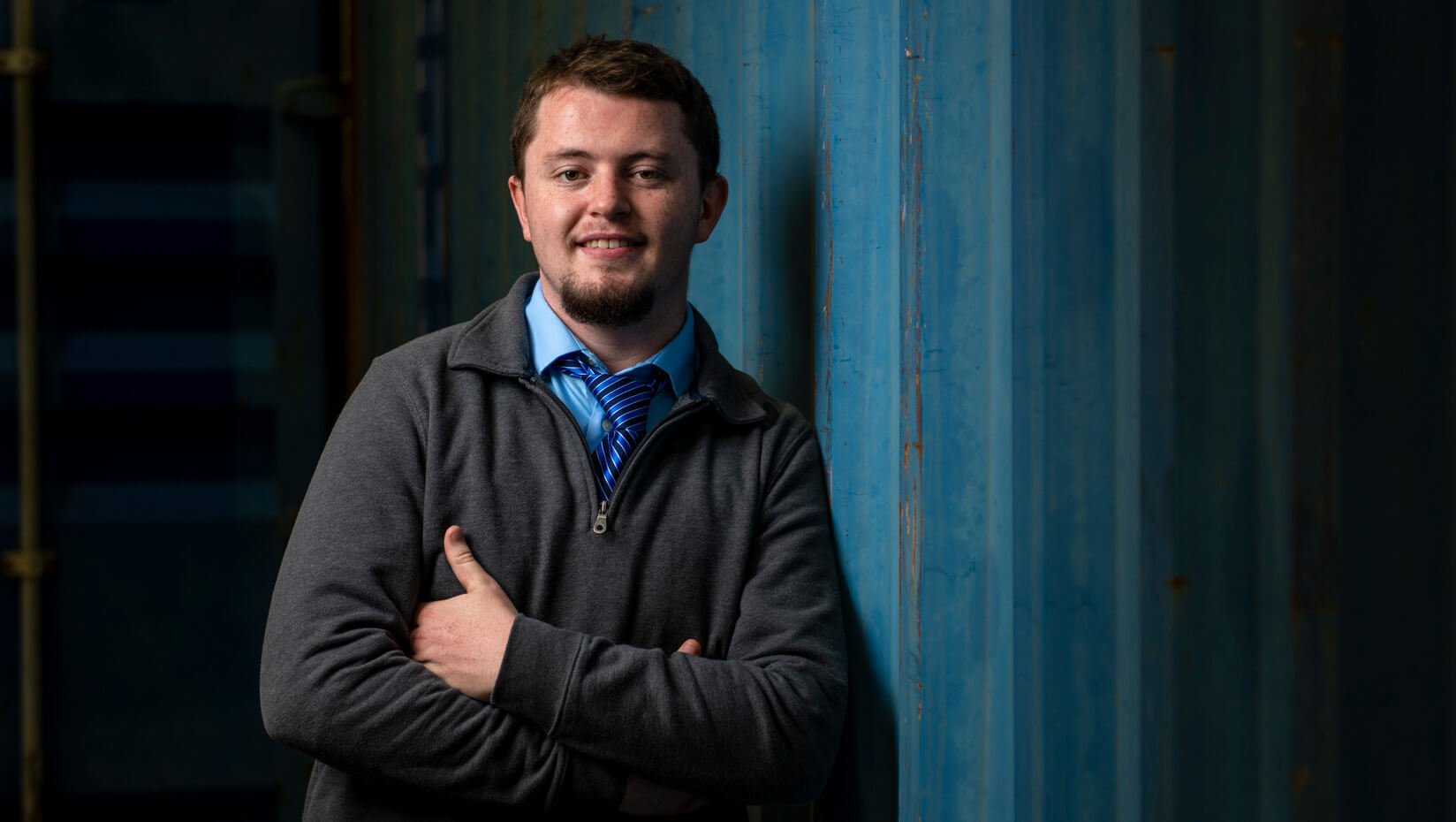 Bradley Denholm: Engineering student designs programming solutions for AMC
A family connection brought Bradley Denholm to the University of Maine from Kempton Park in Johannesburg, South Africa. The opportunity to contribute daily to projects designed for Maine businesses kept him here.
That connection was Denholm's grandfather, William "Bill" Bacigalupo, who graduated from UMaine in 1966 with a degree in mechanical engineering.
Nearly 50 years later, a scholarship from the Class of 1966 Scholarship Fund confirmed Denholm's choice, and he began classes in fall 2014.
Denholm says his interest in engineering arose from a lifelong inclination for working with his hands, taking things apart and putting them back together. He recalls spending much of his childhood building and flying model airplanes with his father.
Now a fifth-year student in electrical engineering and computer engineering, he spends his days at UMaine's Advanced Manufacturing Center devising programming solutions for the center's business clients, bridging academics and real-world experience.
The AMC is a 30,000-square-foot, first-class facility within the College of Engineering, equipped with the latest manufacturing technologies to provide a link between UMaine engineers and the campus departments and Maine businesses that benefit from their skills and innovation, contributing to in-state economic development.
One of Denholm's latest achievements was designing a streamlined production method for PackGen, an Auburn, Maine-based company that specializes in manufacturing industrial shipping containers. He was tasked with designing the entire control system for a machine, and researching and selecting components.
The machine developed at the AMC automates the process used to make the container liners for PackGen. According to Denholm, PackGen's current process requires two operators and takes two minutes, while his method requires one operator and cuts the time to 20–30 seconds per liner, an 80 percent decrease in cycle time for production.
"It was a lot of responsibility, as a student. It was an incredible experience. As an undergrad working on an industry project that's going to be used on manufacturing every single day, by real operators, there's a lot of real-world experience that it gave me that you just don't get in a classroom," Denholm says.
"This was for a Maine-based company, to help the state's economy and not just something theoretical."
And he says leading a project with that level of responsibility comes from his background of long-running experience at the center.
Denholm began working at AMC in May 2015, and has since worked on numerous projects for clients including Auburn-based The Strainrite Companies, Oxford-based Grover Gundrilling and UMaine's Climate Change Institute.
Primarily, Denholm manages the center's IT systems and takes on any programming projects that arise. He says he came into the job with little experience, but quickly learned and grew into the role. Now he's training another student in the same position.
Working at AMC has led to several other job opportunities, Denholm says, and has given him wide-ranging work experience.
"As a high-level system integrator programmer, it makes me a better low-level designer because I know what the end user is going to need out of the product," says Denholm. "And then vice versa, knowing the low-level engineering allows me to be a better system integrator because I understand how the low-level stuff is working, so if there's any problems or tricky setups, it's nice to be able to do it."
Outside of work and classes, Denholm has participated in Club Field Hockey, and was an Engineering Ambassador for two years working with middle and high school students to raise interest in STEM and empower future leaders in engineering, attending the Engineering Ambassador Northeast Regional Workshop at Worcester Polytechnic Institute in October 2015.
Denholm also joined the Figure Skating Club this past semester, and enjoys working out, creating personal electronics projects, growing plants, fishing, hiking, riding his moped and spending time by the Stillwater in the summer.
In the spring, he finished his capstone, which was titled "Don't Fret" and consisted of a prototype device and control system "that will hopefully in the future allow a person, with the use of their fretting hand, to play any four-course string instrument using a MIDI controller (foot pedals, keyboard, etc.)."
Denholm plans to finish his degree while continuing to work at the AMC, innovating to bring new technologies to Maine companies and help them stay competitive and connected to the latest advances in technology.
Contact: Cleo Barker, 207.581.3729