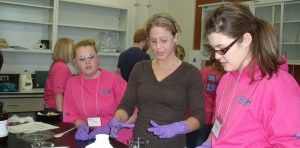 Girls Engineer Maine (GEM) receives funding to recruit women engineers
Girls Engineer Maine (GEM), a program in the University of Maine College of Engineering, has been awarded a three-year, more than $93,000 grant from the National Institute of Food and Agriculture (NIFA) to continue to help build the pipeline for engineering workforce development in Maine.
Proposed project activities include a three-and-a-half-day summer residency at UMaine for 10 high school girls, when federal and state COVID-19 health and safety guidance allows. The girls will be recruited predominantly from rural areas of the state, particularly from communities where forest operations and forest bioproducts have historically anchored local economies.
This project seeks to build on the previous success of the Sustainable Energy Leaders of the Future (SELF) program, which launched at UMaine in 2013 with a four-year NIFA grant. Since 2018, the SELF program has sustained statewide outreach efforts with financial support from the College of Engineering and the Forest Bioproducts Research Institute. In total, 74 high school girls have participated in the SELF program; 18 are currently enrolled at UMaine.
In 2021, SELF participants will be connected to ongoing research related to UMaine's Medicine and Rural Health Grand Challenge and the UMaine Artificial Intelligence Initiative. The revised program will offer opportunities for girls to engage with science, and with female scientists and engineer mentors who are working to address challenges affecting participants' home communities.
Sheila Pendse, project development associate in the College of Engineering, is the principal investigator of the SELF project. Co-investigators include Jessica Leahy, professor of human dimensions of natural resources; Ling Li, assistant professor of sustainable bioenergy systems, and Hemant Pendse, professor and chair of the Department of Chemical and Biomedical Engineering.
More information is available on the GEM website.
Contact: Margaret Nagle, 207.581.3745