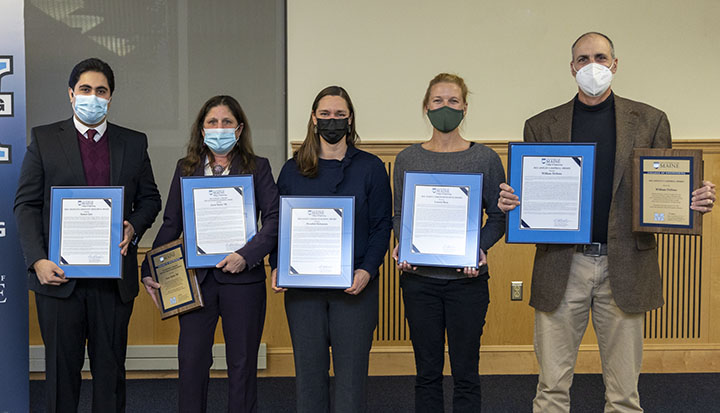 42nd Annual Edward Bryand Awards Ceremony
Cutline
College of Engineering annual award winners, left to right, Saman Zare, Joyce Taylor, Meredith Kirkmann, Lauren Ross and Bill Desisto.
UMaine College of Engineering presents its top annual awards
The chief engineer of the Maine Department of Transportation is among the recipients of the University of Maine College of Engineering's top annual awards to alumni, faculty, staff and students. 
Joyce Taylor, chief engineer for MaineDOT and a 1986 graduate, received the Edward T. Bryand Distinguished Engineering Award. Others honored at the 42nd Annual Edward Bryand Awards Ceremony were William Desisto, professor of chemical engineering, Ashley S. Campbell Award; Lauren Ross, assistant professor of hydraulics and water resources engineering, Early Career Research Award; Meredith Kirkmann, assistant professor of construction engineering technology, Early Career Teaching Award; Kimberly Goff, large center development associate, Vice President for Research Office, Leila C. Lowell Award; Saman Zare, mechanical engineering; Graduate Assistant Research Award; Brandon Dixon, chemical and biomedical engineering, Graduate Assistant Teaching Award.  
This year's Bryand Awards Ceremony was a hybrid event on Jan. 20th that included a small group of award winners, and their friends and family, gathered in Wells Conference Center on campus, and dozens of participants virtually. 
The annual event was established in 1979, by Engineering Dean Jim Clapp The first College Recognition Banquet was held in 1980. Criteria were established for two awards: Ashley S. Campbell Award and the Edward T. Bryand Distinguished Engineering Award. Other awards for individuals and students have been added throughout the years and the ceremony has continued every year since 1980, including the Leila C. Lowell Award for staff members that began in 1983.
More information the alumni award recipients:
Edward T. Bryand Distinguished Engineering Award 
Joyce Taylor '86, Chief Engineer MaineDOT
Joyce Taylor graduated from UMaine with a degree in chemical engineering and began her career at the Maine Department of Environmental Protection as an environmental engineer. She then moved to the Maine Department of Transportation. There, she rose through the ranks and became the chief engineer in 2013. Since then, she has worked on many high-profile projects, including the recently completed Sarah Mildred Long Bridge which spans the Piscataqua River. 
Taylor was the first president of Maine's Women Transportation Seminar Chapter (WTS), an organization dedicated to advancing women in the profession of transportation. She continues to dedicate her time and resources to WTS, and works to mentor women and other young engineers at MaineDOT. 
Ashley S. Campbell Award 
William Desisto, Professor of Chemical Engineering

William Desisto has been an integral member in the Department of Chemical and Biomedical Engineering for over 20 years. In that time, Desisto has gained national and international acclaim. He has been described as a selfless educator and one of the most popular professors among the students. Desisto also has been a creative and tireless researcher who has published over 90 peer-reviewed papers and filed three patents. 
Early Career Research Award 
Lauren Ross, Assistant Professor of Hydraulics and Water Resources Engineering

Lauren Ross has reinvigorated the college's coastal engineering program through her research, making it nationally competitive and one of the leaders in the college in terms of number of MS and Ph.D. students, journal publications and funding. Ross also has established the Watershed Process and Estuary Sustainability Research Group, which seeks to develop science-based solutions to watershed and estuary management problems.
Early Career Teaching Award 
Meredith Kirkmann, Assistant Professor of Construction Engineering Technology
Meredith Kirkmann joined the university in 2017 with years of practical experience in engineering design and management. She willingly took on the role as the safety instructor and became a certified OSHA trainer. Kirkmann established a new Quality Control and Quality Assurance elective and reworked classes to promote active learning and problem solving. Kirkmann has also been a champion for equity in the workplace. She created a monthly forum for female students and is active in many organizations that promote equity in a male-dominated field. 
Leila C. Lowell Award 
Kimberly Goff, Large Center Development Associate, Vice President for Research Office

Kimberly Goff has been an asset to the College of Engineering for over three decades. Her exceptional skills in both written and spoken communications have been utilized to secure countless grant funding for faculty. Goff's dedication to the college is exemplified in her willingness to go the extra mile to accomplish large critical tasks in a timely fashion. 
Graduate Assistant Research Award 
Saman Zare, Mechanical Engineering 
Saman Zare has shown himself to be an exceptional student who not only excels in research and scholarly work, but also in his coursework. Zare's research into the design, fabrication and characterization of advanced, composite materials with novel thermal properties for energy harvesting has resulted in four published and one under-review peer-reviewed journals. In addition to academic activities, Zare has been a leader in the university community by organizing the UMaine student research symposiums and several outreach activities, as well as being the president of Graduate Student Government and a graduate advisor for the International Student Association.
Graduate Assistant Teaching Award 
Brandon Dixon, Chemical and Biomedical Engineering
Brandon Dixon is a natural teacher who never hesitates to share his vast knowledge with students at all levels. Dixon has served as a teaching assistant for five different courses at the 100, 200 and 300 levels. Using his ability to make even the most difficult engineering concept accessible and to spark excitement and enthusiasm for learning, he has become a favorite among both students and faculty. Dixon has taken his love of 3D printing and turned it into STEM activities for K–12 students.