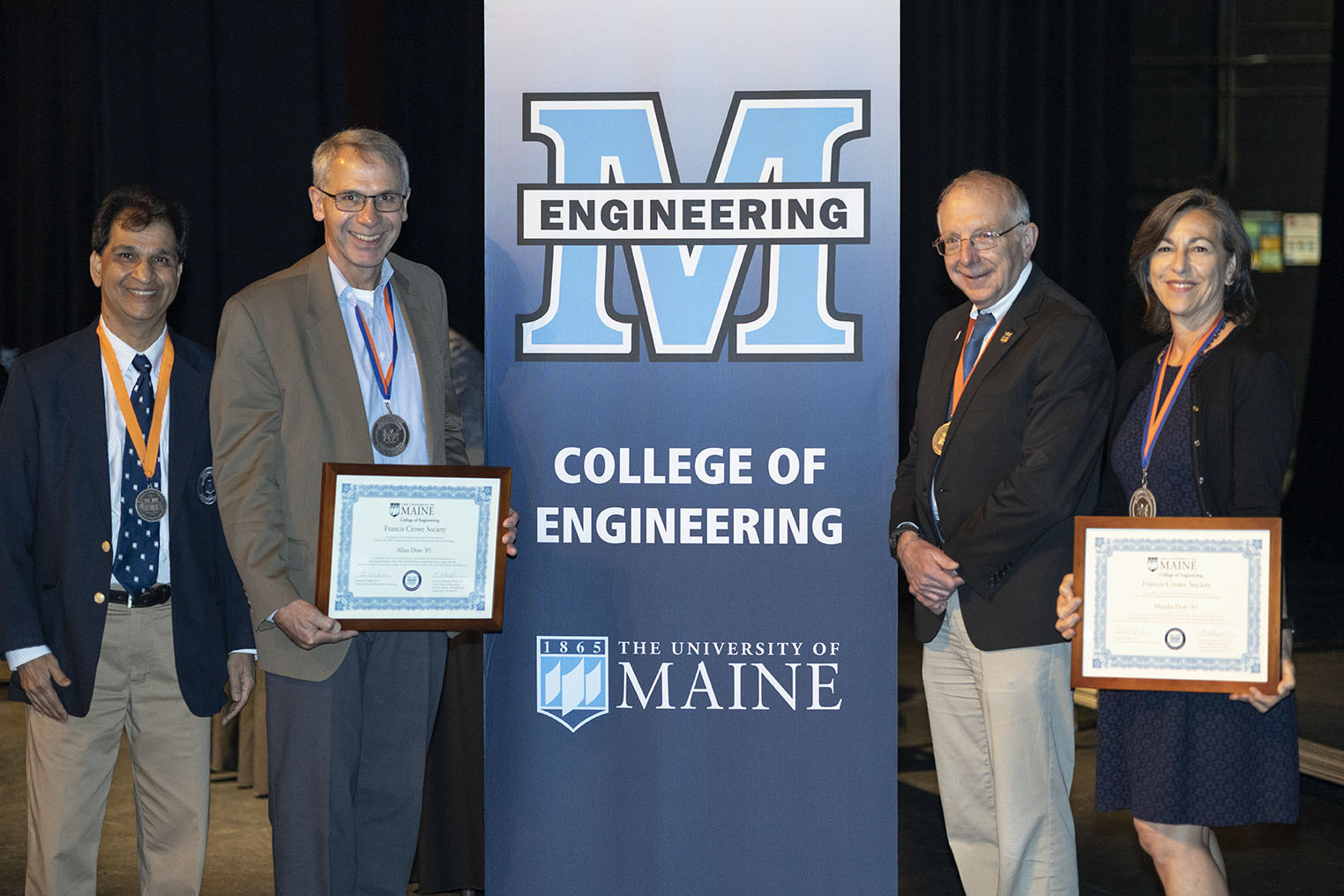 2022 Distinguished Engineers – Allan & Marsha Dow '85 – Chemical Engineering
H. Allan and Marsha L. Fricke Dow (UMaine Bear Pair) both graduated with a BS in CHE in 1985, Allan with Process Control Concentration and Marsha with Polymer Concentration. Both graduated from high school in Maine but came to UMaine Orono as transfer students in 1982; Allan from UMaine Presque Isle and Marsha from the University of Texas at Austin. After graduation Marsha joined Eastman Kodak in Rochester, NY and Allan joined AccuRay in Columbus, OH. After completing a training program with AccuRay, Allan requested and was granted a sales/support territory in Syracuse, NY, which was the location closest to Rochester, NY, where Marsha worked for Eastman Kodak. In 1986, Allan joined Measurex and moved to Rochester. Allan and Marsha were married the next year in 1987.
Marsha's career took her to Eastman Kodak and Polaroid as a process development engineer, and then to privately tutoring high school students in Math and Chemistry as a STEM educator. Marsha started working for Eastman Kodak but took an early retirement package and then joined Polaroid. Later, after the birth of their first child, she transitioned to remote work from home while being at Polaroid's plant site one day a week. Such a work arrangement was practically unheard of at the time in the 1980s for any development engineering role – but with the advent of email, low-cost long-distance phone charges, and smaller sized personal computers it was approved by Polaroid management. Marsha was able to highlight that the challenges experienced by professional women in an overwhelmingly male-dominated industry had finally become personal, and problematic, for the professional men, and get a practical solution put in place.
Allan rose through the ranks at Measurex from applications engineer, account executive and regional manager; subsequently moving on first to Honeywell and then to SDRC as a regional vice president. In 2000, Allan joined Logility, a subsidiary of the American Software Company as its Executive Vice President of Operations and was elected President of Logility in 2015. Later, in 2017, he became CEO, President and was elected as a member of the Board of Directors of American Software Inc., the parent company of Logility. Headquartered in Atlanta, GA, American Software Inc. has more than 500 employees, including 100 in product R&D. American Software (NASDAQ: AMSWA) provides demand-driven supply chain management and enterprise software solutions that drive value for companies regardless of market conditions.
Their daughter Allison is a Senior Manager of supply chain strategy at Chainalytics and son James, a third-generation chemical engineer, is a Remote Asset/Process Engineer at Georgia-Pacific