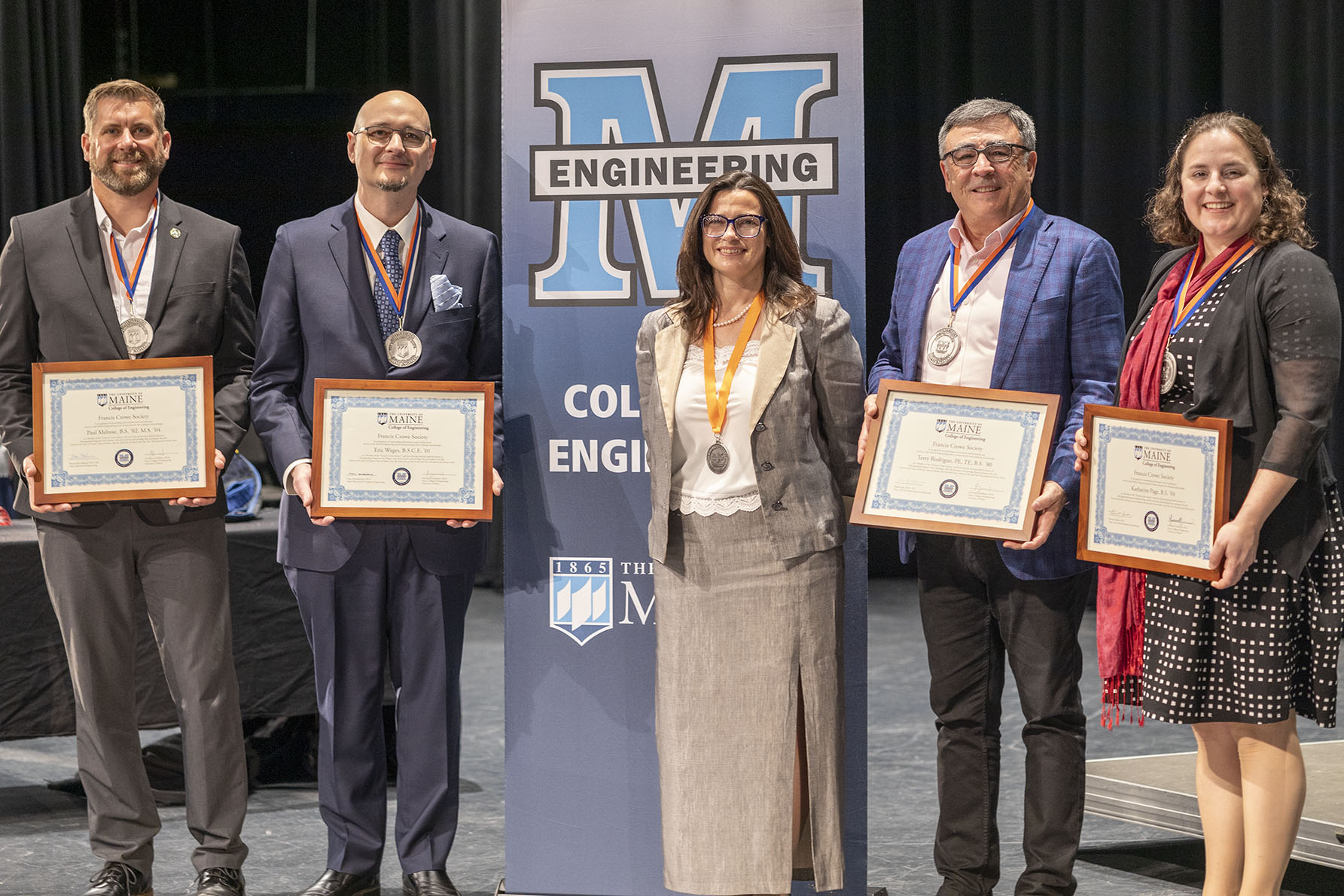 2023 Distinguished Engineers
The 2023 Francis Crowe Induction ceremony occured on Saturday May 6th and featured some of the college's most distinguished alumni.
Francis Trenholm Crowe (October 12, 1882 – February 26, 1946) was the chief engineer of the Hoover Dam. During that time, he was the superintendent of 'Six Companies', the construction company that oversaw the construction project. Crowe attended the University of Maine where he graduated in 1905 with a degree in civil engineering. Crowe became interested in the American west during a lecture from Frank Weymouth, a 1896 graduate of UMaine civil engineering, who was a guest speaker from the US Bureau of Reclamation. While working on the Arrowrock Dam in Idaho, Crowe pioneered two practices that are crucial to the construction of large dams. With this technique, Crowe built some of the largest dams in the American west, including the Hoover Dam.
Distinguished members are inducted based on their contributions to the engineering field. This includes engineering research, industry and education. This year inductee's are;
Paul Melrose, B.S. 2002, M.S. 2004 – Mechanical Engineering. Co-founder and President of Compotech Inc., located in Brewer, Maine.
Katharine Page, B.S. 2004 – Chemical and Biomedical Engineering. Assistant Professor of Materials Science and Engineering at the University of Tennessee Knoxville, and a Joint Faculty member with the Neutron Scattering Division at Oak Ridge National Laboratory.
Clark M. Neily Jr., B.A. Physics, 1965, M.Ed, Harvard – Engineering Physics.  Pioneering engineer with long career developing key navigation and avionics systems for NASA. His work was instrumental in the success of the first lunar landing.
Eric Wages, B.S.C.E. 2001 – Electrical and Computer Engineering. Owner and founder of Idealem, a business consultancy focusing on solving difficult problems surrounding operational excellence and decision making, leadership and team development and dynamics, and supporting future workplace design and working habits in the post-pandemic hybrid office environment.
Terry Rodrigue, PE, TE, B.S. 1980 – Civil and Environmental Engineering. Founded and served as CEO for Interwest Consulting Group, a multidisciplinary consulting firm, providing a wide range of engineering and related services to public and private clients in California, Nevada, and Colorado from a network of 12 regional offices.
The success of our graduate is something we can all celebrate!