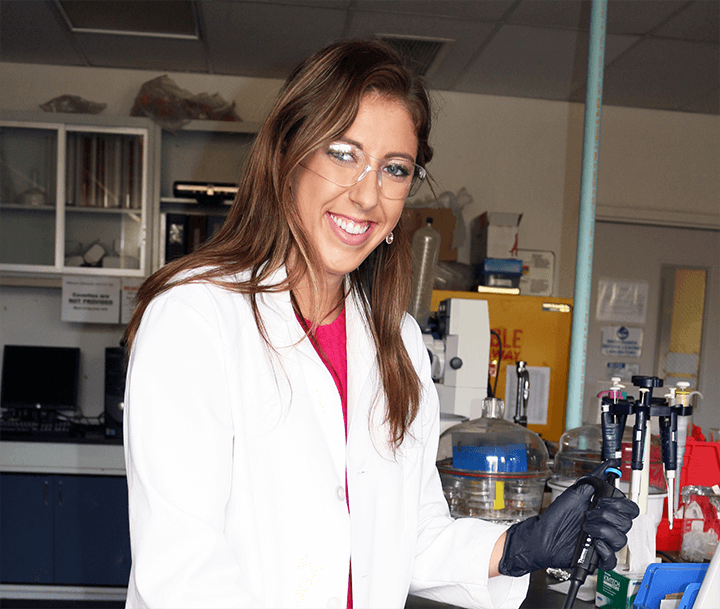 Paige Belanger: Co-Op Experience
This summer, third-year bioengineering student Paige Belanger had the opportunity to Co-Op at Solenis, an American manufacturer of specialty chemicals for the pulp, paper, oil and gas, chemical processing, mining, biorefining, power and municipal markets.
Paige's position at Solenis was a commercial engineering intern. In this role, she conducted daily microbiological system profiles and investigated problems with the mill to develop customized strategies and communicated this information to mill managers and operators. She also designed an Account Management Manual for use in training future employees. She applied core math skills, hands-on lab experience, and one of the engineering fundamentals, problem-solving, which was key in successfully executing individual and group projects alike. She also drew on and grew her presentation skills in a professional environment, an experience that is vital for both academia and the workforce.
With this valuable experience and knowledge now under her belt, Paige wants to continue with academia and her pre-med track. This is being supported by her current fall semester job where she is a Clinical Research Intern under Dr. Heidi Larson at Eastern Maine Medical Center. This is allowing for her to gain a more well-rounded view of her future possibilities.
At UMaine, Paige is currently doing research in Dr. Mason's lab  with graduate student Aimee Co. "The goal of this research project is to make a synthesis bone analog suitable for testing new biochemical interactions.  The importance of these findings could provide pivotal information necessary in the continued investigation of the potential use of nanocellulose as an implantable material into the human body."
For future students entering the chemical and biological engineering Co-Op program, Paige recommends keeping an open mind, to explore a variety of options, and to attend a many company information sessions, as these are vital in determining interests.
Paige advises freshman to take advantage of every opportunity that comes their way. "By exposing yourself to a variety of new ideas and experiences, you can learn a great deal about yourself."
An important aspect that helped Paige and that should be encouraged to rising sophomores is to talk to upperclassmen in your field to gain insight into their experience and to hear first-hand what to expect in a professional engineering environment. They can also give guidance on how to properly prepare yourself for the Co-Op process.
Paige plans to pursue a career in the medical field and is currently exploring her options through both academia and her co-op experience.
"I would like to either become a physician, or a physician assistant. I am passionate about conducting medical research and am certain I will make it a large part of my career no matter what path I end up going down. I have always dreamed of working to further medical knowledge through engineering and innovation, in order to increase the quality of life of patients."