Maine College of Engineering and Computing students have the opportunity to do meaningful research alongside faculty in such areas as renewable energy, biofuels, robotics and biomedicine. Senior capstone projects provide students with key competition and team-building experiences, and professors —not graduate students — teach classes. An annual engineering job fair is held on campus, where top companies come to hire UMaine engineers. Nationwide, nearly 250,000 new engineering jobs are projected to be created in the next 10 years, and top companies, including General Dynamics, Fairchild Semiconductor, Procter & Gamble and NASA, compete for UMaine engineering talent. According to Forbes, engineers earn the highest average starting annual income of professionals in any field — $62,000. 
Apply Today For your intended major, choose from among any of the undergraduate engineering programs or simply state "Engineering" on the form if you wish to take some time to decide. Additional information about admission to the University of Maine, can be obtained from the Office of Admission.
Undeclared Engineering Program If you think you want to be an engineer, but are not sure which field….no problem. In the Undeclared Engineering program, you will start off with a series of courses that will count no matter which engineering program you ultimately choose. In addition, you will take a course in the first semester that, along with introducing you to college life, will give you an overview of all of the engineering and engineering technology programs we offer. As long as you are able to decide by the end of the first year, you will be able to progress towards the degree of your choice at a normal pace.
Contact Associate Dean Mohamad Musavi at 207.581.2218 or musavi@maine.edu for more information.
Prospective Students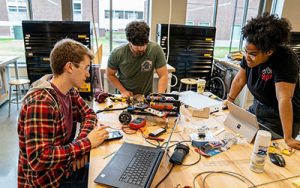 Engineer Your Future at the Maine College of Engineering and Computing at the University of Maine! Engineers are changing the world all of the time! Engineers create innovative and practical solutions to some of the world's biggest challenges and they work with other smart, inspiring people to invent, design and build things that matter and make a difference. Can you see yourself doing some of these jobs?
Design and build aerospace modules to explore space.
Protect the planet by developing state-of-the-art water systems
Design high-tech cell phones and mp3 players
Create cutting-edge animation for video games, TV & Movies
Develop life-saving medical technology to detect early  brain tumors
Build bomb-proof structures to protect soldiers in war zones
Invent a new sensor that can detect pollution in our drinking water
The Maine College of Engineering and Computing at the University of Maine is Maine's only educational institution to offer 11 ABET accredited engineering and engineering technology degree programs. Our reputation is known around the world, our facilities are world-class, and combined with the great value and the outstanding location – UMaine is the right choice.
Welcome! Explore and find out more about the Maine College of Engineering and Computing We are glad you are here. Please contact us if you want to know more or have any questions.
B.S. Degrees:
Helpful Links: