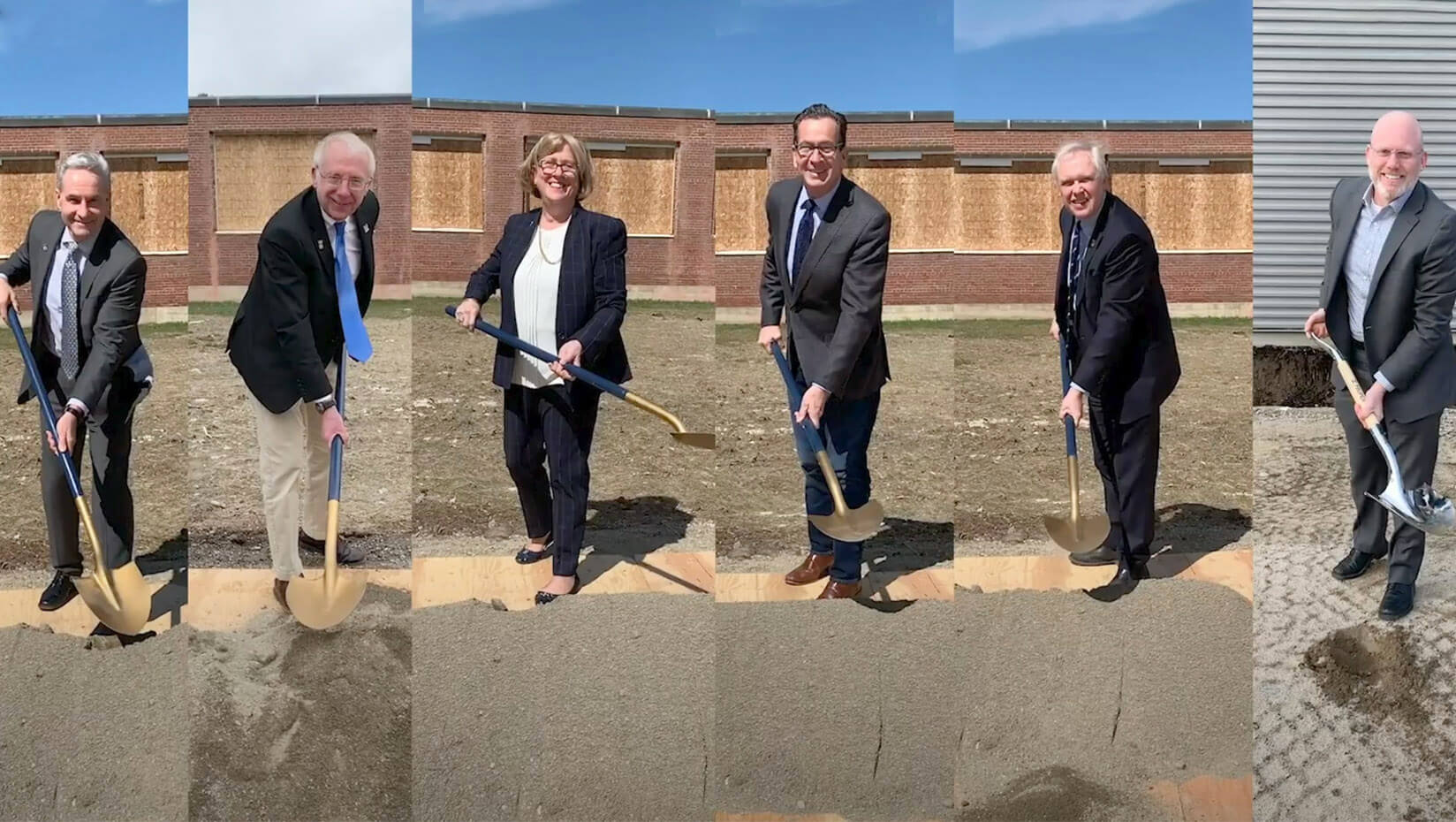 UMaine holds virtual groundbreaking for $78 million Ferland Engineering Education and Design Center
Today, donors, architects, builders, alumni, friends and colleagues will celebrate the official groundbreaking ceremony for the University of Maine Ferland Engineering Education and Design Center. Due to coronavirus pandemic protocols, the previously planned in-person event is virtual and available online.
Construction of the 105,000-square-foot facility will begin in May, with workers following appropriate COVID-19 health and safety guidelines.
The project is expected to be completed in spring 2022. Members of the UMaine Class of 2023, who entered as first-year students in fall 2019, will complete their senior capstone projects in the center.
The groundbreaking for the Ferland Engineering Education and Design Center (Ferland EEDC), which has been in the planning and fundraising stages since 2013, is a significant milestone, says Gov. Janet Mills.
"This is an exciting opportunity for UMaine students to learn skills in emerging fields in state-of-the-art classrooms in biomedical and mechanical engineering labs. And once we're on the other side of this pandemic, it will be another crucial tool to help us address our workforce challenges, which is critical to the growth of our economy and our success as a state," Mills notes in her video message for the virtual groundbreaking.
The Ferland Engineering Education and Design Center will house the Biomedical Engineering Program and Department of Mechanical Engineering, as well as teaching laboratories for the Mechanical Engineering Technology Program. It also will provide space for all UMaine engineering majors to complete their senior capstone projects and collaborative learning classrooms that will serve the entire campus.
A record $25 million in private support has been raised from more than 500 alumni, friends, foundations and corporate donors for this capital priority of UMaine's $200 million Vision for Tomorrow comprehensive campaign, led by the University of Maine Foundation. Approval of $50 million in public support from the state Legislature in July 2017 helped to catalyze the campaign.
"With major investment from the Maine Legislature, donors knew that this was a priority for the state and the university, and they were eager to see the project completed," says Jeffery Mills, president of the University of Maine Foundation. "This building represents a key economic cornerstone for UMaine and the state — perhaps now more needed than ever."
The building's $10 million naming gift, the largest single gift in UMaine history, came from Skowhegan natives E. James "Jim" Ferland '64 and Eileen P. Ferland, and was announced in 2018.
"A UMaine engineering education is a wonderful foundation for any number of careers, and in this time of uncertainty, students should take substantial comfort in knowing that 99% of graduates promptly find employment or go on to graduate school – little wonder that engineering school enrollment is growing so rapidly," according to the Ferlands.
Five additional major naming gifts to the project came from the Abagadasset Foundation; Gustavus and Louise Pfeiffer Research Foundation; Harold Alfond Foundation; Packaging Corporation of America; and Pratt & Whitney.
"This facility is key to advancing the College of Engineering, the university and the state," says UMaine President Joan Ferrini-Mundy. "Continuing to increase enrollment in engineering to produce the talent needed by industry is critical to Maine's economy. The project itself is a jobs-creator and includes UMaine engineering alumni returning to their alma mater to contribute to its design and construction. This facility ushers in an important new chapter in our future."
WBRC Architects Engineers, based in Bangor, and Ellenzweig of Boston designed the Ferland Engineering Education and Design Center; Consigli Construction of Milford, Massachusetts and Portland, Maine is leading its construction.
"Ferland EEDC will become the heart of engineering education at the University of Maine," says Dana Humphrey, dean of the College of Engineering. "It will help to retain talented Maine students, as well as attract even more from out of state. This talent pool will provide the engineering graduates and new innovations critical to moving Maine's economy forward."
For more information about giving to the University of Maine, contact the University of Maine Foundation, 207.581.5100.
Contact: Margaret Nagle, 207.581.3745