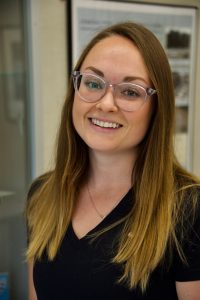 Graduate Student Profile
Name: Taylor Louise Bailey
Hometown: Vassalboro, Maine
Major: Civil Engineering
Grad Year: First-year MS student (expected graduation date: May 2020, BS received in May 2018)
Research Focus: Wave and turbulence mechanics
Why did you choose UMaine to pursue a graduate degree in engineering?
I currently hold a graduate research assistant position at the Advanced Structures and Composites Center, located on UMaine's campus. The Composites Center is just one of UMaine's many facilities that offer graduate opportunities to students. Not only did this position give me the opportunity to work with Professional Engineers at the Center, but I also have had the opportunity to work closely with several of the University's professors who has been available to help me step by step through my research process. There were not many other Universities I was considering that were offering such an exceptional opportunity.
What first sparked your interest in pursuing a graduate engineering degree?
The possibility of being able to pursue a career in academia inspired my decision to pursue a graduate degree in Civil Engineering. The opportunity to be able to work with professional engineers while also advancing my education also influenced my decision.
What advice do you have for incoming graduate students?
I would advise incoming graduate students to find a mentor very early in their career, even if that person is not their advisor. My advisor, Dr. Lauren Ross, is my mentor, but I know many students who have benefited from turning to someone else, be it another professor or another graduate student, to help guide them through their graduate career.
What professor(s) are you working with on your research?
Dr. Lauren Ross, Dr. Kim Huguenard, Dr. Anthony Viselli, PE
What do you plan/hope to do after graduation?
I am undecided as to whether I am planning to pursue a PhD in engineering or look for a job in the private sector. I would like to keep my focus in water resources or coastal engineering. I plan to stay in Maine, but I would like to find a job in Portland, Maine or closer to the coast.
How has UMaine helped you reach those goals?
UMaine has given me the opportunity to take courses that have pertained to my interests throughout both by undergraduate and graduate career (thus far). I have had the opportunity to work with other students and professors with far more experience than me, which has been an immeasurable benefit to my education. UMaine has also given my experiences that have helped to boost my resume, including my work at the Composite Center during my undergraduate career, and my participation in organizations such as ASCE.